In this study, the presence of mycotoxins was determined in feed samples from Serbia, Spain, Vietnam, Turkey, Egypt, Senegal, Philippines, Uganda, Kenya, and Thailand.
Jog Raj*, Hunor Farkaš, Nemanja Todorovic, Zdenka Jakovčević, Robert Čepela and Marko Vasiljević
PATENT CO, DOO., Mišićevo, Serbia
*Corresponding author: [email protected]
The most recent data estimates that aquatic animals (capture fisheries and aquaculture taken together) currently contribute approximately 40% of the global animal protein production, up from about 25% in the early 2000s.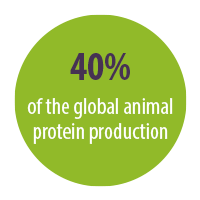 To meet this target the demand for aquatic feed is also increasing and efforts to minimize the use of marine fish-based oils and protein, multiple alternatives are being considered, for example other (even aquaculture) fish offal and slaughter or farming by-products, including animal manure.
⇰ However, the focus is mainly on plant-based sources of protein and oil such as corn, soybeans, various post-processing by-products such as oil-pressed cakes and meals, bioethanol by-products, silage (from plants or animals), and many more.
Now, in most circumstances, mycotoxins occur in many, if not all, feed raw materials of plant origin if the environmental conditions are favorable.
⇰ To some extent, the presence of mycotoxin-producing fungi is less frequent in feed ingredients coming from animals (marine fishmeal and fish oil), but it is not unheard of.
With today's globalization of trade and the use of feed raw materials from all over the world, it is crucial to screen for contaminated ingredients when preparing the commercial feed for aquaculture species.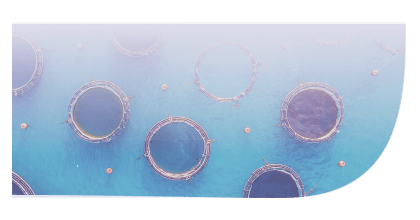 Surveillance is routinely carried out in larger companies, but it remains a problem for small feed mills and use of contaminated feeds in farms is a risk.

Therefore, the aim of the present study was to screen aqua feed samples received from different countries between January and November 2021 to determine their level of contamination with mycotoxins:
Serbia
Spain
Vietnam
Turkey
Egypt
Senegal
Philippines
Uganda
Kenya
Thailand
In this survey, more than 200 samples were analysed for multiple mycotoxins using LC-MS/MS triple quadrupole (Agilent 6460 series) based multi-mycotoxin method for quantification of all mycotoxins present.
⇰ These included Aflatoxin B1 (AFB1), B2, G1 and G2, Ochratoxin A (OTA), Zearalenone (ZEN), Deoxynivalenol (DON), Fumonisin B1 and B2 (FB1 and FB2), T-2 and HT-2 toxins, all regulated in the EU in feed by EU Directives 2002/32/ EC, 2006/576/EC, and 2013/165/EU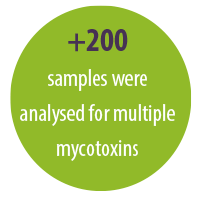 The results of this survey per country are presented below.

⇰ Results of mycotoxin levels for each country

⇰ Results of mycotoxins in aqua feed for all 10 countries

⇰ Effects of mycotoxins on aquaculture species (fish and shrimp)

⇰ Conclusions