We review the key aspects of mycotoxin control and its negative effects on poultry farming with Dr. Milad Manafi.
Milad Manafi
Department of Animal Science, Faculty of Agricultural Sciences,
Malayer University, Malayer, Iran.
[email protected]
Generally, different poultry species require an adequate supply of carbohydrates, proteins, fats/oils, vitamins, minerals, and water (Manafi et al., 2011).

However, poor raw material management and storage and high carbon and moisture rates in feedlots may lead to a final diet contaminated with fungi and mycotoxins (Döll y Dänicke, 2004).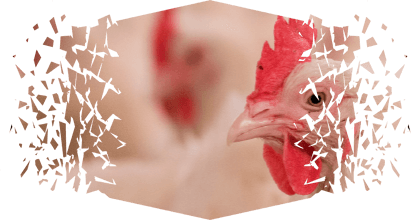 Mycotoxins are recognized as secondary toxic metabolites mainly produced by various toxigenic fungal species of the Aspergillus, Fusarium, and Penicillium (Egbontan et al., 2017).
The mycotoxin type, level and frequency of exposure (acute or chronic), body mass index, gender, concomitant health issues, and possible synergistic effects of other chemicals affect the manifestation of the disease (Manafi et al., 2009).
In poultry, the significance of these mycotoxins' effects depends on their presence in food and feed above the regulatory limits.
Different symptoms in poultry and other animals have been well documented by many scientists:
Weight loss, anorexia and impaired feed conversion competency
Immunosuppression and failed response to vaccination
Low fertility
Drop in egg production and high chances of egg blood spots
Kidney enlargement
Pale fatty liver and hepatitis
Gizzard erosions and oral lesions
Increased incidence of leg malformations
Increased death rates and visceral hemorrhages
Reduced villus height
(Alexandros and Jean, 2002; Döll et al., 2004; Jaynes et al., 2007; Marin et al., 2013; Mishra et al., 2013; Manafi et al., 2014; Manafi et al., 2015; Fowler et al., 2015; Manafi et al., 2016; Ji et al., 2016; Manafi, 2018; Manafi et al., 2019, Raj et al., 2021).
Furthermore, there is a high chance of mycotoxin carry-over (Figure 1) into edible byproducts obtained from poultry fed with contaminated feed. This phenomenon can lead to cancer, as some mycotoxins are recognized for their carcinogenicity by the World Health Organization's (WHO) and International Agency for Research on Cancer (IARC) (Ganesan et al., 2021).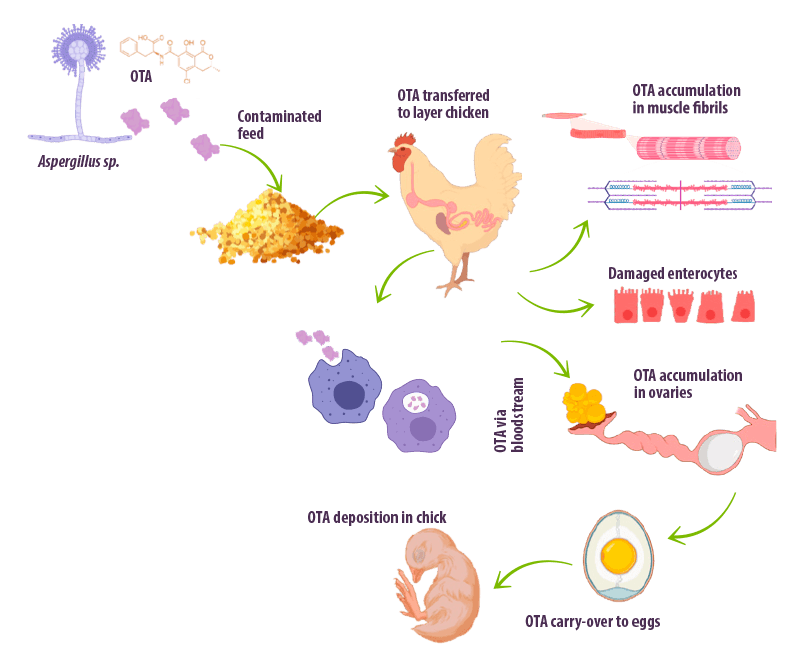 Figure 1. Schematic representation of Ochratoxin A (OTA) carry-over from feed to various parts of the chicken (adapted from Ganesan et al., 2021).
Commonly, mycotoxin analysis methods include:
⇰

Enzyme-linked immunosorbent assays (ELISA)

⇰

High-performance liquid chromatography (HPLC)

⇰

LC-MS/MS

The ELISA is a quick test with reliable accuracy in simple substrates, such as raw feed ingredients.

On the other hand, HPLC and LC-MS/MS-based analyses are relatively more accurate than rapid test kits and used for evaluating mycotoxin removers, especially in complex substrates, such as formulated feeds (Niderkorn et al., 2007)
Most of the mycotoxins are liposoluble compounds that can easily be absorbed from the site of exposure (gastrointestinal or respiratory tract) into the circulatory system, reaching the liver where they are metabolized by the microsomal system into active or detoxified metabolites and distributed throughout the organism (Haschek et al., 2002).
Through natural cellular processes of transcription and translation, mutations may manifest or even exacerbate the deregulation of cell growth (Manafi et al., 2012)

MYCOTOXICOSIS CONTROL
Increased efforts are being undertaken by scientists to develop cost-effective and safe products to achieve decontamination and remediation of different mycotoxins (preventive or curative) in feedstuffs (Manafi et al., 2019).