We interviewed Prof. Serkan Yilmaz (Faculty of Health Sciences, Ankara University, Turkey) on the toxic, genotoxic and carcinogenic effects associated with mycotoxins and the consumption of products derived from animals exposed to mycotoxins.
Dr. Serkan Yilmaz is currently Professor at Ankara University and his studies focus on the genotoxic, carcinogenic properties of mycotoxins, environmental pollutants and food additives. With over 30 publications in peer-reviewed journals, he currently serves as an editorial board member of many internationally recognized journals and he has participated in many national and international conferences.

MYCOTOXINS ARE KNOWN TO HAVE A WIDE AND COMPLEX SPECTRUM OF EFFECTS AND ARE GENERALLY CLASSIFIED ON THE BASIS OF THE AFFECTED TISSUES OR ORGANS. IS THIS CLASSIFICATION ENOUGH TO ADDRESS THE COMPLEXITY OF THE EFFECTS THAT THESE TOXINS CAN HAVE ON AN ORGANISM, ESPECIALLY KEEPING IN MIND THAT IS FREQUENT TO BE EXPOSED TO MULTIPLE MYCOTOXINS AND THAT THEIR INTERACTIONS MAY MODIFY THE FINAL OUTCOME?

Mycotoxins can adversely affect human and animal tissues and organs, and can lead to hepatotoxicity, hepato-carcinogenicity, nephrotoxicity, susceptibility to diseases, slow growth, and impairment of reproductive functions and cancer development.

Furthermore, mycotoxins act as potent immunosuppressive agents that negatively affect immune cells.
The severity of the damage caused by mycotoxins in the body may vary depending on factors such as vitamin deficiency, energy deprivation, and infectious disease status.
As can be understood from these explanations, it is not correct to classify mycotoxins according to the organ type that they affect, because many mycotoxins can cause systemic toxicity.
For example, Ochratoxins have been associated with stomach, esophagus and testicular cancers in addition to their nephrotoxicity, neurotoxicity, immunotoxicity, myelotoxicity, reproductive toxicity and teratogenicity.

It is also clear that the combined effects of mycotoxins will be much more toxic, as animals and humans are exposed to mycotoxins through the food chain and many mycotoxins can be found on the same food.

AMONG THE NEGATIVE EFFECTS THAT HAVE BEEN ASSOCIATED WITH MYCOTOXIN EXPOSURE, GENOTOXICITY, MUTAGENICITY AND CARCINOGENICITY HAVE BEEN EXTENSIVELY DOCUMENTED. COULD YOU BRIEFLY EXPLAIN WHAT EACH OF THESE CONCEPTS INVOLVE?


"Genotoxicity" refers to the capability of a substance to directly or indirectly damage cell DNA and chromosomes.
⇰ Genetic damage in somatic cells may lead to malignancy.

The term "Mutagenicity" refers to any agent capable of altering the genetic structure of a cell. These changes involve a single gene or entire chromosomes.
⇰ Genotoxic agents cannot lead to transmissible changes from cell to cell or generation to generation.
Mutagenicity, however, refers to the production of permanent transmissible genetic alterations.

"Carcinogenicity" is the process of tumor development, which means that a carcinogen is a substance that induces cancer development or progression.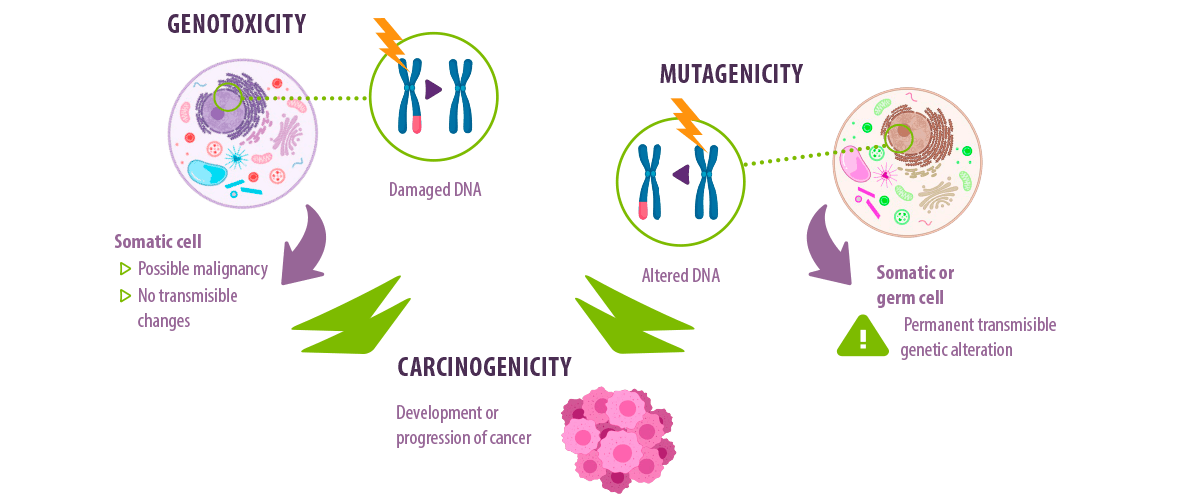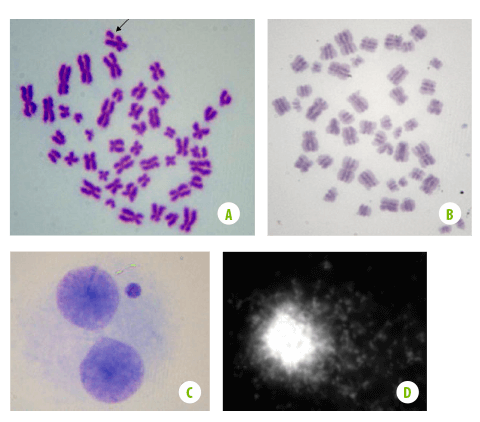 Figure 1. Microscopic images from human lymphocytes. A. Chromatid break. B. Endoreduplication C. Micronuclei. D. DNA damage induced by mycotoxins.

DO ALL MYCOTOXINS HAVE GENOTOXIC, MUTAGENIC AND/OR CARCINOGENIC EFFECTS ON LIVESTOCK OR HUMANS? WHICH ARE THE MAIN MYCOTOXINS THAT HAVE THESE NEGATIVE EFFECTS?

To date, 400 mycotoxins have been identified and the most important mycotoxin-producing species belong to Aspergillus, Penicillium, Alternaria and Fusarium genera. Almost all mycotoxins studied so far have genotoxic, mutagenic and carcinogenic properties.
⇰ Among them Aflatoxins, Ochratoxins, Patulin, Fumonisins, Zearalenone, Trichothecenes and Ergot alkaloids are strong genotoxic, mutagenic and carcinogenic agents.

IN GENERAL, WHICH ARE THE CELLULAR AND MOLECULAR MECHANISMS INVOLVED IN THE GENOTOXIC, MUTAGENIC AND CARCINOGENIC EFFECTS OF MYCOTOXINS?

The molecular mechanisms underlying the genotoxic, mutagenic and carcinogenic effects of mycotoxins vary from one mycotoxin to another. In general, the main mechanisms associated with these effects are:
⇰ Inhibition of crucial enzymes such as phenylalanine-tRNA synthetase
⇰ Formation of reactive oxygen species
⇰ Damage to the cell membrane by increasing lipid peroxidation
⇰ Inhibition of protein synthesis, mitochondrial respiration and ATP formation
⇰ Disruption of calcium homeostasis
⇰ Glutathione neutralization, inducing lipid peroxidation
⇰ Disruption of DNA and RNA synthesis

HOW IS THE LEVEL OF CARCINOGENICITY, MUTAGENICITY AND/OR GENOTOXICITY ESTABLISHED FOR EACH MYCOTOXIN?

It is not always easy to determine level of carcinogenicity, mutagenicity and/ or genotoxicity of mycotoxins.
Many of these substances are first looked at in cell cultures in a lab and, afterwards, animal studies are carried out using high exposures. Additionally, retrospective studies on human exposure are used to analyze substances and to evaluate their ability to cause cancer
There are several systems that define a substance as a carcinogen.
1. IARC classification
⇰

Group 1: the agent (mixture) is definitely carcinogenic to humans.

⇰

Group 2A: the agent (mixture) is probably (product more likely to be) carcinogenic to humans.

⇰

Group 2B: the agent (mixture) is possibly (chance of product being) carcinogenic to humans.

⇰

Group 3: the agent (mixture or exposure circumstance) is not classifiable as to its carcinogenicity to humans.

⇰

Group 4: the agent (mixture) is probably not carcinogenic to humans.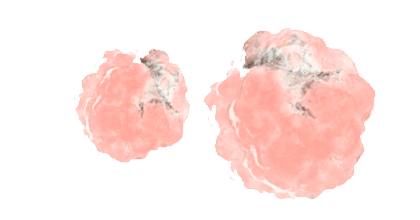 2. CLP classification
⇰

Category 1A (Carc1A) carcinogen: substance known to have carcinogenic potential for humans, classification is largely based on human evidence.

⇰

Category 1B (Carc1B): substance that is presumed to have carcinogenic potential for humans, classification is largely based on animal evidence.

⇰

Category 1A mutagen (Muta1A): substance known to induce heritable genetic mutations or to be regarded as if they induce heritable mutations in the germ cells of humans. The classification is based on positive evidence from human epidemiological studies.

⇰

Category 1B mutagen (Muta1B): substance known to induce heritable genetic mutations or to be regarded as if they induce heritable mutations in the germ cells of humans. The classification is based on positive mutagenicity test results on cells in humans.
3. NTP classification
⇰

Known to be a human carcinogen

⇰

Reasonably anticipated being a human carcinogen
4. American Conference of Governmental Industrial Hygienists (ACGIH) classification
⇰

Group A1: Confirmed human carcinogen

⇰

Group A2: Suspected human carcinogen

⇰

Group A3: Confirmed animal carcinogen with unknown relevance to humans

⇰

Group A4: Not classifiable as a human carcinogen

⇰

Group A5: Not suspected as a human carcinogen
5. European Union classification
⇰

Category 1A: Carcinogenic


⇰

Category 1B: May cause cancer


⇰

Category 2: Suspected of causing cancer
Among these IARC classifications are mostly used by the scientific community.

IS IT POSSIBLE TO DETECT THE POTENTIAL CARCINOGENIC, MUTAGENIC AND/ OR GENOTOXIC EFFECTS BEFORE THEY OCCUR IN THE ORGANISM?

Yes. After isolation of the mycotoxins, a series of in vitro and in vivo tests using different cell types can detect potential carcinogenicity, genotoxicity and/or mutagenicity in animals and in cultured human cell lines.
⇰ However, large human retrospective cohort studies are needed to classify a mycotoxin as a certain human carcinogen.

IN A RECENT STUDY CARRIED OUT BY YOUR RESEARCH TEAM, YOU EVALUATED THE GENOTOXIC EFFECTS OF THE MAIN MYCOTOXINS THAT ARE A RISK FOR HUMAN AND ANIMAL HEALTH. COULD YOU BRIEFLY EXPLAIN YOUR FINDINGS REGARDING GENOTOXICITY AND THE CELLULAR/ MOLECULAR MECHANISMS INVOLVED REGARDING EXPOSURE TO AFLATOXIN B1, OCHRATOXIN, PATULIN, FUMONISIN B, ZEARALENONE, TRICHOTHECENES, AND ERGOT ALKALOIDS?

Aflatoxin B1 (AFB1)

Aflatoxins, produced mainly by Aspergillus flavus and Aspergillus parasiticus, are hypertoxic secondary metabolites and generally found in cereals, milk, tree nuts and oilseeds.
AFB1 is a clastogenic agent (mutagenic agent that induces disruption or breakages of chromosomes) and participates in the extrahepatic cycle, leading to:
Chromosomal abnormalities
Micronucleus formation
Sister chromatid exchange
Unscheduled DNA synthesis
DNA strand breaks

LAFB1 is defined as a Group 1 carcinogen according to the IARC classification.
The most important target organ of AFB1 is the liver, where the toxin is metabolized mainly by CYP1A2 and CYP3A4.
This mycotoxin causes numerous mutations, particularly in the p53 tumor suppressor gene. Additionally, AFB1, metabolized via prostaglandin H synthase, causes oxidative stress.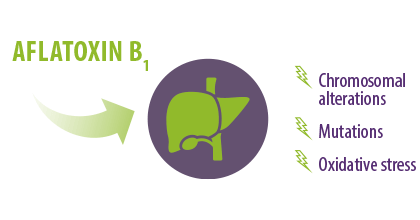 Ochratoxin A (OTA)

Ochratoxins are produced by Penicillium and Aspergillus fungi and are generally found in products such as cereals, coffee, cocoa, spices, beer, wine, dried fruit and animal feed, having more than 10 derivatives.
While exposure to OTA has been associated with a number of diseases that affect the kidney, both in animals and humans, it has also been reported to be associated with stomach, esophagus and testicular cancer.
OTA is structurally similar to phenylalanine and therefore inhibits many enzymes that use phenylalanine as a substrate, such as phenylalanine-tRNA synthetase.
In addition, it contributes formation of reactive oxygen species by inhibiting activation of protein-1, Nrf2 activation, glutathione-S-transferase and cytoprotective enzymes, as well as damaging the cell membrane by increasing lipid peroxidation.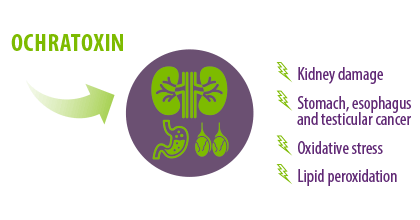 Patulin (PAT)

Patulin, first isolated from Penicillium griseofulvum, is a mycotoxin produced mainly by Aspergillus and Penicillium and is found in fruits such as grapes, pears and peaches, and especially in apples.
Patulin is highly toxic to the liver, kidneys, gastrointestinal tract and immune system.
In addition, in many cell-based and animal-based studies, PAT has been reported to be a risk factor for genotoxicity, embryotoxicity, cytotoxicity, neurotoxicity, immunotoxicity, carcinogenicity and teratogenicity.
Patulin can react with amino acids such as cysteine, lysine, histidine, and make covalent additions with electrophilic chemicals. These properties cause PAT toxicity.
In addition to these toxicity mechanisms, it activates the Rpn4 transcription factor, causing over-expression of the Rpn4 gene which leads to protein breakdown and proteotoxicity.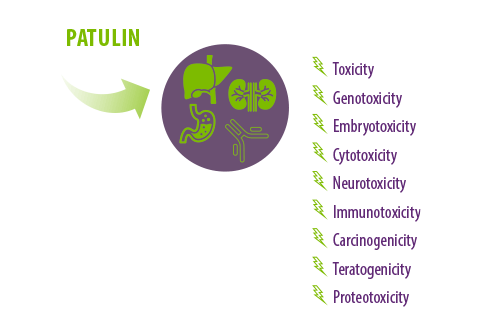 Fumonisin B (FB)

Fumonisins (Fumonisin B1 (FB1), Fumonisin B2 (FB2) and Fumonisin B3 (FB3)) are carcinogenic and genotoxic secondary metabolites found in corn-based foods worldwide and are produced by Fusarium verticillioides and F. proliferatum.
⇰ Among these species, the most known and toxic species is FB1 and it was isolated from F. verticillioides.
A strong positive correlation has been found between fumonisins and esophageal tumors, liver cancer and neural tube defects.
FB1 is defined by IARC as a possible human carcinogen in Group 2B, and shows genotoxic activity via oxidative stress, DNA damage, cell cycle arrest, apoptosis, inhibition of mitochondrial respiration and deregulation of calcium homeostasis.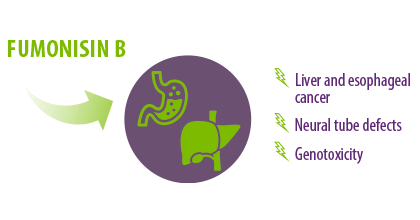 Zearalenone (ZEN)

Zearalenone, a macrocyclic resorcyclic acid lactone, is a non-steroidal estrogenic mycotoxin produced by Fusarium fungi.
Zearalenone is found in barley, rice, corn and other grains on almost all continents and can also be classified as xeno-estrogen due to its chemical similarity to estrogen.
Zearalenone may cause numerous reproductive system diseases such as prostate, ovarian, cervical or breast cancer.
⇰ It has also been shown to cause phagolysosomal damage in the kidneys.
The mutagenic activity of ZEN, which is also stated to cause genotoxic effects by causing micronucleus and chromosome aberrations, DNA strand breaks and DNA addictions, is still a matter of debate.
ZEN, listed as a Group 3 carcinogen by IARC, has been reported to induce spontaneous breast tumors, hepatocarcinoma, and esophageal cancer incidence, increase cell proliferation in MCF-7 breast cancer cells and neuroblastoma SK-N-SH cells.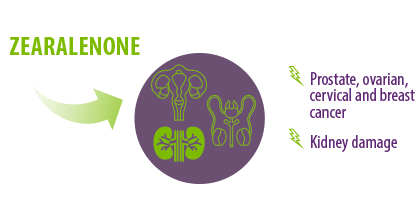 Trichothecenes

Trichothecenes are generally found in barley, wheat, rye, corn and oats.
⇰ Clinical signs of exposure to trichothecenes are emesis, weight loss, immunomodulation, coagulopathy, bleeding and cellular necrosis of mitotically active tissues (intestinal mucosa, skin, bone marrow, ovary, testicle, spleen).
It is thought that genotoxic activity of trichothecenes due to glutathione neutralization, lipid peroxidation, disruption of DNA and RNA synthesis.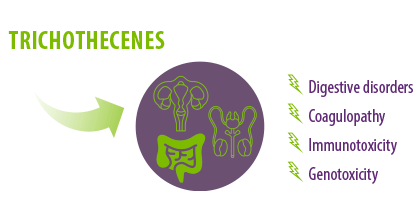 Ergot alkaloids
Claviceps purpurea can synthesize approximately 40 Ergot alkaloids with various chemical structures and these alkaloids can turn into lysergic acid, which is toxic to humans and animals.
Ergot alkaloids may be an agonist or antagonist to noradrenaline, dopamine and serotonin neurotransmitters because compounds derived from D-lysergic acid are structurally similar to these neurotransmitters.
These toxins are mostly found in cereal products such as rye, wheat, barley, corn, triticale, oats, millet and sorghum.
Ergot poisoning can cause physiological problems such as vasoconstriction/ vasodilation, diarrhea, gangrene, miscarriage, internal bleeding, uncontrolled muscle contractions, as well as psychological problems (hallucinations). Another feature of these alkaloids is that their cytotoxic effects.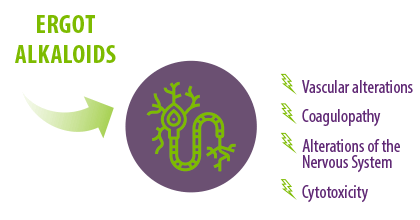 IN YOUR OPINION, ARE THE CURRENT MEASURES IMPLEMENTED FOR CONTROLLING THE CONTAMINATION OF FOOD/FEED WITH THESE MYCOTOXINS ENOUGH TO PREVENT CHRONIC EXPOSURE IN SMALL QUANTITIES THAT CAN OFTEN LEAD TO THEIR GENOTOXIC, MUTAGENIC AND CARCINOGENIC EFFECTS? WHAT CAN WE DO TO BETTER PROTECT OUR LIVESTOCK AND OURSELVES FROM THE EFFECTS OF MYCOTOXINS?

Mycotoxins grow in many foodstuffs, such as, grains, dried fruits, nuts and spices, and most of them are chemically stable and not affected by food production processes.
Approximately 25 of the 400 mycotoxin species belonging to different chemical compound classes are controlled in foods due to their occurrence.
Techniques such as HPLC, LC-MS/MS, ELISA, and LFD (Lateral Flow Devices) are used for mycotoxin analysis. Although these methods perform the mycotoxin determinations to a great extent, new methods are also being developed.
Mycotoxins are very common in nature and they are very stable, which means that it is very difficult to control their production and to protect our livestock and ourselves from them.
It is important to prevent toxin formation in agricultural products before harvest and during storage, as it is very difficult to remove them after contamination.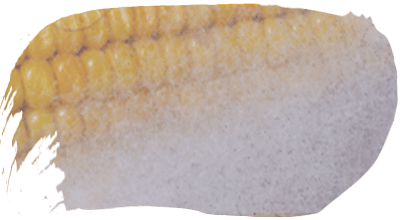 In order to prevent mycotoxin-induced toxicity:
Water activity value should be decreased depending on the preservation methods applied to food and feed.
Consumption of food and feed that exceeds legally accepted limits should be prohibited.
Storage temperature should be set to suitable degrees
Moldy feed should not be given to animals.
Mycotoxins in food and feed should be degraded or adsorbed through physical-chemical-biological methods.
Mycotoxin screening should be carried out in raw materials and concentrated feed given to animals.

IT IS INCREASINGLY EVIDENT THAT IN THE FUTURE WE WILL BE CHALLENGED WITH NEW MYCOTOXINS OR, AT LEAST, CHANGES IN THE FREQUENCY OF OCCURRENCE OF CERTAIN MYCOTOXINS IN SPECIFIC REGIONS. THROUGH YOUR RESEARCH, HAVE YOU DETECTED SIGNS OF THESE VARIATIONS? WHAT DO YOU THINK WE CAN EXPECT IN THE FUTURE?

Of course, in the future, we may encounter many different, perhaps more toxic mycotoxins than existing ones.
In order to minimize these situations, prevent economic losses and/or protect human and animal health, attention should be paid to the abovementioned protection methods.
In addition, applying an antioxidant nutrition strategy may help to ensure that the side effects of, not only mycotoxin-induced damages but also other exposures, can be reduced.

WHAT WOULD BE YOUR TAKE-HOME MESSAGE FOR OUR READERS REGARDING MYCOTOXIN-ASSOCIATED GENOTOXICITY, CARCINOGENICITY AND MUTAGENICITY?

First of all, both employees in the field and consumers should definitely pay attention to the protection rules mentioned earlier.
Despite this, since we cannot prevent exposures completely, it is important to pay attention to the diet, for example, with the addition of antioxidants.
It should not be forgotten that especially Brassica vegetables should be consumed abundantly and accompanied with vitamin D-rich ingredients that will strengthen the immune system. Supplements of curcumin and alpha-lipoic acid will be very helpful in preventing the damage that mycotoxins can cause.