Mycotoxins have become a serious issue in the animal feed industry and have also affected the aquaculture industry.

They can create serious health problems in aquatic and terrestrial animals, and their presence in agricultural products may result in significant economic losses.

To reduce the impact of mycotoxins on Nile tilapia fry, two commercially available products— Minazel Plus® (Organically Modified Clinoptilolite) and MycoRaid (multi-component mycotoxin detoxifying agent, MMDA).
A 12-week trial was conducted using 18 glass aquaria (100 L) at a density of 50 fish/aquarium.
⇰ The Nile Tilapia fry were fed a diet (1.97 ± 0.1 g) with similar crude protein levels (35.75 ± 0.35%) for a period of 84 days.
Six diets were prepared for treatment groups using different doses of the supplements (Minazel Plus® and MycoRaid) and corn contaminated with AFB1:
T1 Group: control diet

T4 Group: control diet + 0.5 mg AFB1/kg
T2 Group: control diet + 2 g Minazel Plus®/kg

T3 Group: dieta control + 2 g MycoRaid/kg
T5 Group: control diet + 0.5 mg AFB1/kg + 2 g Minazel Plus®/kg

T6 Group: control diet + 0.5 mg AFB1/kg + 2 g MycoRaid/kg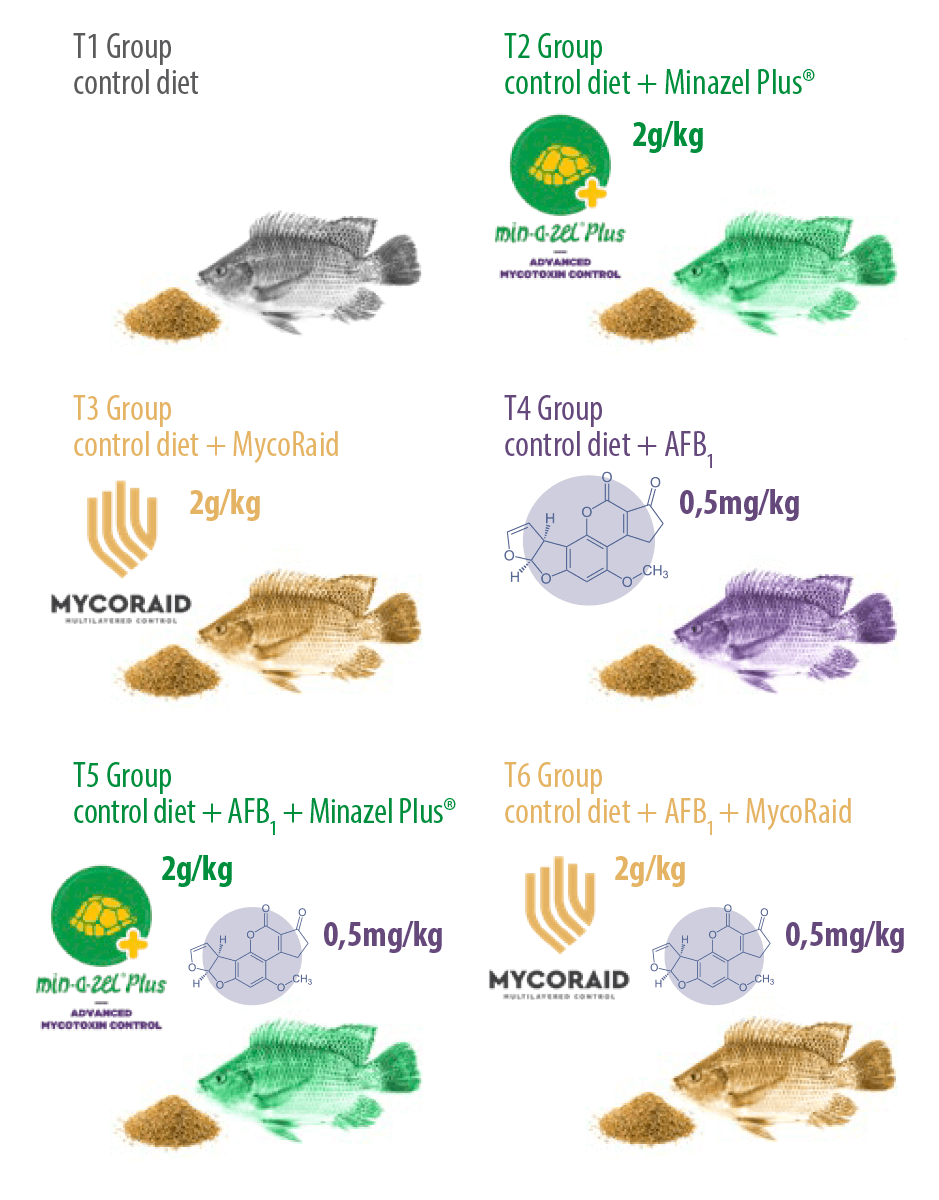 The results from this study showed that MycoRaid significantly (p < 0.05) improved the survival of fish by 16% as compared to the control group.
Nevertheless, growth parameters were not affected among the treatments.
These results also indicated that protein intake was significantly higher in Groups T1 and T2 compared to the aflatoxin B1-fed tilapia.
The protein efficiency ratio (PER) was significantly higher in Group T6 as compared to Groups T1 and T3.
Additionally, a 14-day bacterial challenge test with Aeromonas hydrophila demonstrated that diets containing MycoRaid or Minazel Plus® improved survival when AFB1 was present.

Therefore, the supplementation of feed with

MycoRaid

or Minazel Plus® is recommended to ameliorate the negative effects of AFB1 in Nile Tilapia feeds.

Authors
Ram C. Bhujel1*, Anusha D. Perera1, Nemanja Todorović2, Jog Raj2, Rui A. Gonçalves3 and Marko Vasiljević2
1Aqua-Centre, School of Environment, Resources and Development (SERD), Asian Institute of Technology (AIT), Pathum Thani 12120, Thailand; [email protected]
2PATENT CO. DOO, 24 211 Mišićevo, Serbia; [email protected]; [email protected], [email protected]
3Aquaculture and Mycotoxin Expert; [email protected]
*Correspondence: [email protected]

Bhujel, R.C.; Perera, A.D.; Todorović, N.; Raj, J.; Gonçalves, R.A.; Vasiljević, M. Evaluation of an Organically Modified Clinoptilolite (OMC) and a Multi-Component Mycotoxin Detoxifying Agent (MMDA) on Survival, Growth, Feed Utilization and Disease Resistance of Nile Tilapia (Oreochromis niloticus) Fingerlings Fed with Low Aflatoxin. Aquac. J. 2023, 3, 56–69. https://doi.org/10.3390/ aquacj3010007 Academic Editor: Aires Oliva-Teles.