We explore the mechanisms involved in endotoxin-induced inflammation and the scientific advances that may help us mitigate their effects with Prof. Simon Jackson (CEO Molendotech Ltd and Professor at the University of Plymouth)

.

Professor Simon Jackson, CEO and founder of Molendotech Ltd., obtained his BSc and PhD in Chemistry/Biochemistry at Cardiff University, and after a period as visiting researcher at Dartmouth Medical School, USA, he developed his research career, first at the Medical School, Cardiff University and then as a research leader at the University of West England, Bristol, before taking up the position of Biomedical research lead at the University of Plymouth.

He has over 200 publications in the area of infection and immunity and has particular expertise in the cell and molecular responses to pathogenic molecules, such as lipopolysaccharide (LPS, endotoxin). His research has been centered on immunological and inflammatory responses to infection and the key role played by bacterial molecules, such as LPS, and for the development and application of relevant assays and cell models to study such responses.

His research led to the formation of the spin-out company Molendotech in 2018 and, as well as running the company, he remains actively engaged in research and has been awarded grants from the UK Reasearch Councils, industry, charities and Government bodies.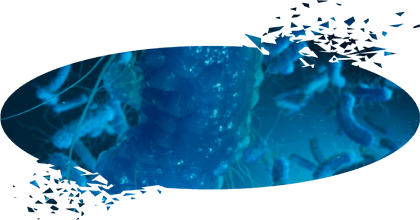 PROFESSOR JACKSON, THE FIELDS OF CHEMISTRY AND BIOCHEMISTRY ARE VAST AND EXHILARATING. WHAT LEAD YOU TO EXPLORE THE IMMUNOLOGICAL AND INFLAMMATORY RESPONSES TO INFECTION?
I have always been interested in life sciences and how the body responds to external stresses. My Ph.D. was on free radicals and biological responses and this led to a postdoctoral study at Medical School on free radicals and disease mechanisms, including sepsis.
I found this a fascinating area of research, especially as little was known about the detailed molecular mechanisms of sepsis and the pathogen triggers.

This got me into the study of pathogen triggers of inflammation and endotoxins (lipopolysaccharide; LPS) in particular. I was intrigued by how such an ancient molecule was recognized by the immune system and how this could become dysregulated.

A BIG PART OF YOUR RESEARCH HAS FOCUSED ON ENDOTOXINS OR BACTERIAL LIPOPOLYSACCHARIDE (LPS). COULD YOU BRIEFLY EXPLAIN WHAT THESE MOLECULES ARE?
The lipopolysaccharide (LPS) is an integral component of the outer membrane of Gram-negative bacteria.

It is a structural component that also protects these organisms from environmental factors, including those encountered in the gut of animals and humans.
For historical reasons, the LPS was described as "endotoxin" to distinguish the molecule from bacterial "exotoxins" but they are very different.
⇰

Exotoxins are usually proteins and have toxic effects on cells and tissues.

⇰

Endotoxins are composed of glycolipids and are not intrinsically toxic. It is the host's response to LPS that can cause damage and may even be lethal.

HOW ARE ENDOTOXINS FORMED, HOW DO THEY INTERACT WITH RECEPTORS AND WHAT ARE THE CONSEQUENCES OF THEIR PRESENCE IN THE ORGANISM? ARE THE EFFECTS OF ENDOTOXINS LINKED TO ANY DISEASES?