The aim of this study was to examine the pattern of mycotoxin contamination in maize destined for animal feed in different global regions (Europe, Africa, Asia and South Americas) over a period of 3 years (2018–2020) with up to 1,000+ samples analysed in each year.
Using LC-MS/MS, it was possible to quantify the relative contamination present in the samples in each year from the different regions of eleven different mycotoxins:
Aflatoxin B1 and B2 (AFB1 and AFB2)
Aflatoxin G1 and G2 (AFG1 and AFG2)
Ochratoxin A (OTA)
Deoxynivalenol (DON)
Fumonisin B1 (FB1)
Fumonisin B2 (FB2)
Zearalenone (ZEN)
T-2 toxin
HT-2 toxin
Overall, >75% of samples in each of the survey years were contaminated with multiple mycotoxins, regardless of the global region (Europe, Africa, Asia, South Americas countries).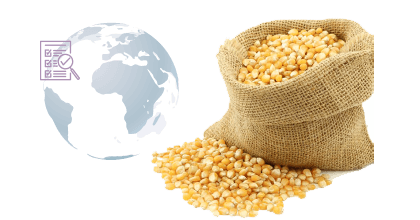 ⇰ The trends in mycotoxin contamination showed that there was consistent contamination with DON in the 3 sampling years in all four regions.
⇰ Interestingly, AFB1 contamination was prevalent in all regions in 2018, but more predominant in Europe in 2019. In contrast, in 2020 it was only found to be the major contaminant in Africa.
⇰ FB1 contamination of maize, which was prevalent in Europe in 2018, became more prevalent in Asia and LATAM countries in 2019 and in Africa in 2020.
The comparison of contamination with different mycotoxins in each of the years globally showed significant differences for AFB1, FB1, DON, and ZEN.

These results highlight the trend of contamination of maize with mixtures of mycotoxins and the importance of their control in this key commodity used as an important ingredient in animal feed.
Autores
Jog Raj1, Hunor Farkaš1, Zdenka Jakovčević1, Ángel Medina2, Naresh Magan2, Robert Čepela1 and Marko Vasiljević1
1PATENT CO, DOO, Mišićevo, Serbia
2Applied Mycology Group, Environment and AgriFood Theme, Cranfield University, UK
References
Jog Raj, Hunor Farkaš, Zdenka Jakovčević, Angel Medina, Naresh Magan, Robert Čepela & Marko Vasiljević (2022): Comparison of multiple mycotoxins in harvested maize samples in three years (2018–2020) in four continents, Food Additives & Contaminants: Part A, doi: 10.1080/19440049.2021.2012600