We interviewed Ángel Medina, who has a PhD in Microbiology from the University of Valencia and is currently a Senior Lecturer and researcher in the Applied Mycology Group at Cranfield University (UK) about the interesting field mycotoxigenic fungi ecophysiology.
His studies focus on the impact of environmental stress on the development of fungi, the mechanisms involved in their ecophysiological tolerance and the molecular basis of the production of secondary metabolites, especially mycotoxins and other relevant metabolites with industrial applications.

YOU HAVE A PHD IN MICROBIOLOGY FROM THE UNIVERSITY OF VALENCIA AND ARE CURRENTLY CARRYING OUT YOUR RESEARCH WITHIN THE APPLIED MYCOLOGY RESEARCH GROUP AT CRANFIELD UNIVERSITY. WHAT LED YOU TO TAKE AN INTEREST IN THIS FIELD OF RESEARCH?
I did my PhD in Valencia under the direction of Prof. Misericordia Jimenez. At that moment, the presence of ochratoxin A in wine and beer was known but the responsible fungi were unclear.
Thus, most of my PhD was about finding out about fungi that produce mycotoxins in grapes or barley.
However, I found Prof Naresh Magan's publications (Cranfield University) very interesting, who had demonstrated that it doesn't matter what a fungus can do, it's more about controlling the environment it is living in.
After thousands of plates of fungi and characterisation of fungi using different techniques, the concept of "fungal ecology" became very appealing to me.
I applied for a stay at Cranfield in my last year of PhD and that was it… I knew from early days that I wanted to come back. And here I am.

COULD YOU TELL US ABOUT THE MAIN LINES OF RESEARCH OR THE MOST INTERESTING ONES YOU ARE CARRYING OUT?
One of the most interesting things about working at Cranfield is that I work directly, or I am involved, in many different projects on different subjects. We look at benefits and hazards.
From all this I would say that in the last 5 years my research has focused in:
⇰

Ecophysiology of fungal species, mainly mycotoxin producing ones, and the effects that climate change forecasted environmental factors may have on mycotoxigenic fungi

⇰

High-throughput techniques to speed up ecophysiological studies

⇰

Development of early ways to detect fungi or fungal activity.

YOU HAVE FOCUSED ON THE ECOPHYSIOLOGY OF MYCOTOXIGENIC FUNGI. WHAT DOES THIS CONCEPT INVOLVE AND WHAT INFORMATION DOES IT PROVIDE US WITH?
For me, ecophysiology is a paramount aspect when it comes to mycotoxigenic fungi. The first rule when you want to win a "war" is to know your enemy.
⇰ This is what understanding the ecophysiology of a fungus resembles to.

⇰ You know under which conditions they will grow or not,  if they will produce toxins or not, if they will reproduce or not…

We can use all this information in order to prepare for each of the "little battles" along the food chain when we are trying to mini

mize mycot

oxins.

WHICH ARE THE ENVIRONMENTAL FACTORS THAT MOST INFLUENCE THE DEVELOPMENT OF MYCOTOXIGENIC FUNGI AND MYCOTOXIN PRODUCTION?

Maybe I am a bit biased!! But so far, the ones I have found to have the most effect are water activity and temperature.
At the moment, we are carrying out a lot of research with increased levels of CO2 as we believe that it could be very important in terms of climate change.

TEMPERATURE, PH AND WATER ACTIVITY HAVE AN IMPORTANT INFLUENCE ON THE LIFE CYCLE OF THESE FUNGI, DON'T THEY? ARE THESE FACTORS INDEPENDENT OR CAN THE VARIATION OF ONE OF THEM INFLUENCE THE EFFECTS OF THE OTHERS? COULD YOU EXPLAIN THIS PHENOMENON WITH AN EXAMPLE OF A SPECIFIC MYCOTOXIGENIC FUNGUS?
Our research at Cranfield is known by colleagues as we are one of the few groups that are trying to combine 3 environmental factors simultaneously in some experiments.
In this case, in our experiments with Aspergillus flavus we have combined:
⇰

Temperature

⇰

Water availability

⇰

CO2 concentration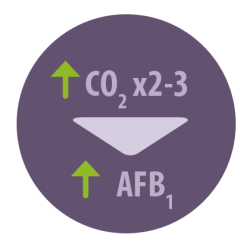 What we have found is that, when increasing the level of CO2 2 or 3 times above the current concentrations (levels that are not toxic for the fungi), something happens at the molecular level in such a way that the amount of aflatoxin B1 produced increases considerably.
Our tests demonstrated that there is an interaction between these parameters and that the changes cannot be explained with individual or paired alone.
In other cases, like some Fusarium spp, we have observed that when adding CO2 in the mix, the range of water activities and temperatures in which the fungus can grow gets extended.
Thus, the fungus can grow at higher temperatures and under dryer conditions.

CLIMATE CHANGE IS A PRESSING GLOBAL CONCERN. HOW ARE MYCOTOXIGENIC FUNGI BEING AFFECTED BY THIS PHENOMENON?
I think that, in general, nature is being affected by these tremendous changes.
One of the most significant one, and that surely everyone has felt, is the fluctuation in temperature.
⇰ I remember that when I was a little boy I would be running around for my birthday in November with a very thick jacket. This doesn't happen now in my hometown, Carcaixent (Valencia – Spain), where some years people are wearing t-shirt until mid-December.

Another thing that has changed a lot is the way in which it rains. Thus, because of climate change, what is changing the most are the same factors that will affect fungi, as I mentioned earlier, temperature and water availability.
Remember that the main drive of all living organisms in nature is to survive and fungi are no exception. In order to survive they will move to "better places with better living conditions" but in turn, for humans, looking at our food safety this will be a great risk.

Thus, we better get prepared.

HAS THERE BEEN A VARIATION IN THE OCCURRENCE OF MYCOTOXIGENIC FUNGI IN RELATION TO CLIMATE CHANGE? WHICH ONES SHOULD WE BE MOST CONCERNED ABOUT IN THE FUTURE?
The research available at the moment suggests that several things will change. However, when looking at the different mycotoxigenic fungi, both in Europe and other areas of the world, I think Aspergillus flavus and aflatoxins are major concern.
The reason behind this is that this "guy" is a tough "guy", capable of surviving in very bad conditions in winter and able to thrive under very restrictive conditions (high temperature and low water availability) where other fungi or microorganisms cannot grow, which means that they do not have any no competition.
Taking into account the increase in temperature and drought problems, less rain, etc., you can quickly realise that these environmental fluctuations can create the ideal conditions for this fungus to prevail over others and expand across different areas where, before, it wasn't a major concern or it couldn't even grow.
Per se, this won't be a problem but A. flavus comes with the added problem of potentially producing mycotoxins under those conditions and I think is worth remembering that aflatoxin B1 is the most potent mycotoxin and a clear carcinogen for humans.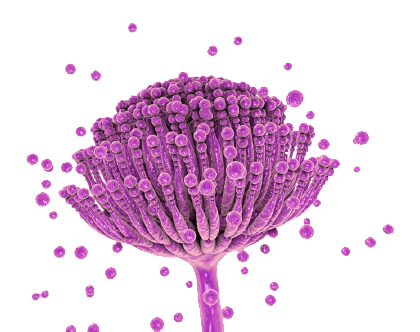 WITHIN YOUR LINE OF RESEARCH, YOU HAVE ANALYSED THE GENE EXPRESSION OF DIFFERENT STRAINS OF MYCOTOXIGENIC FUNGI. HAVE THESE STUDIES REVEALED SIGNIFICANT MODIFICATIONS? HAVE YOU OBSERVED ANY SIGNIFICANT EPIGENETIC EFFECTS IN TERMS OF AIR COMPOSITION, ENVIRONMENTAL POLLUTION OR PESTICIDE USE? HAVE YOU FOUND ANY CONCRETE EXAMPLES OF THIS TYPE OF CHANGE?
Yes indeed! We always try to find the reasons behind mycotoxin shifts or changes by looking into what happens with the genes in the biosynthetic pathways of the toxins.

This is what we call "molecular ecology" and it has helped us to better understand the way fungi adapt to specific environmental conditions and why they change the amount of toxin that they produce.
In the research that has been conducted by our group in the last 15 years we have highlighted that environmental conditions are able to
modify the expression of these genes and, thus, modify the amount of toxins produced.
We have described, for different fungi, that mild stress sometimes boosts the expression of some genes that lead to an increase in the accumulation of mycotoxins.
In fact, most mycotoxigenic fungi have maximum production of mycotoxins under conditions that are slightly different to their optimum growth conditions.
⇰ This shows that light stress boosts mycotoxin production.
As mentioned before, most of these experiments have always considered one or two factors and their potential interactions.

In our most recent studies, as mentioned before, we have been assessing three factors simultaneously by adding CO2 in our climate change experiments and we have seen clear interactions leading, in some cases, to an abrupt increase in toxin production.

COULD WE SAY THAT MYCOTOXIGENIC FUNGI ARE ADAPTING TO CLIMATE CHANGE AT A FASTER RATE THAN OTHER PLANT SPECIES USED IN ANIMAL FEED?
Well, microorganisms are generally better at adapting than other living organisms because their life cycle is short and thus, they replicate many more times in the same period of time.
⇰ However, I don't think that we have seen major modifications coming from genetic modifications in a very short period of time, as this will happen more in the long run.
What we are seeing is the movement of species and pathogens to areas where they were not found before.
⇰ Some plants will be exposed to these new pathogens and might not be ready.

⇰ Our agricultural practices might not minimize the development of these pathogens, so we might not be ready either.

I believe that, at the moment, there are many "known unknowns" and lots of research is needed to fill these knowledge gaps, which in turn will help us to develop more resilient practices and make agriculture and food supply networks more sustainable in the long term.

RAW MATERIAL STORAGE CONDITIONS ARE ESSENTIAL TO AVOID MYCOTOXIN PRODUCTION. WHICH PARAMETERS ARE ESSENTIAL TO MONITOR IN THIS RESPECT?
This question is very related with the research we have been developing at Cranfield for the EU Project MyToolBox.

At Cranfield we have been working on the development of an improved Decision Support System for silo storage managers.
At the moment, silos are monitored using temperature and humidity sensors.
However, from our experience and our chats with the industry, once you have an alert it means that the situation is already quite bad and the losses can be significant.
Thus, we decided to look at options to improve detection and, after looking into different options, we decided to study whether CO2 levels linked to temperature and humidity could be a better indicator of fungal activity.
At a certain temperature and humidity level the grain continues respiring at a particular rate.
Silos are semi-closed systems and if there is a disturbance in the system in terms of water, temperature or fungal contamination, the respiration of grain and the respiration of the fungi growing will vary regarding the normal pattern in specific silos.
The specific location can also be identified.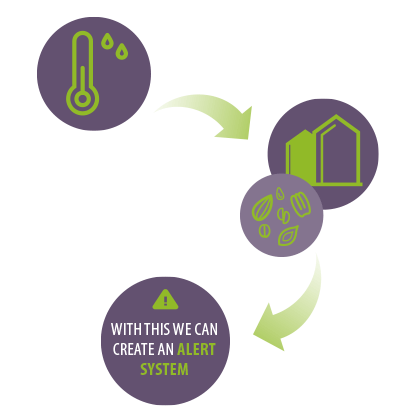 Our results in in vitro experiments and in small silos with 2 tonnes of wheat or maize (in collaboration with Michelle Suman from Barilla in Italy) have shown that we can provide alerts of fungal spoilage earlier than the system based only on temperature and humidity.
This will allow the silo managers to adopt corrective actions sooner, reducing waste and improving the quality of the grains with independence of their final destination, either food or feed.
At the same time, this contributes to the reduction of mycotoxin production as the condition of the silo can be restored to conditions where fungal growth and mycotoxin production are not possible.

IN YOUR EXPERIENCE, ARE THERE ANY MYCOTOXINS THAT SHOULD BE INCLUDED IN THE ANALYSES CURRENTLY BEING CARRIED OUT AND THAT HAVE NOT BEEN CONSIDERED UNTIL NOW?
This is the "million-dollar" question for many.
At Cranfield, we are in very close contact with companies and most of the things we do are in collaboration with them.
⇰ Therefore, we are aware of the limitations and problems that mycotoxin analyses pose to them.

⇰ On the other side, we are focused on the consumers, both humans and animals, which we want to keep healthy.
It is a compromise between what we have in food and feed and their effects.
It is a question that is very difficult to answer. However, I would like to highlight something with regard to this.
The legislation now is based in specific pairs between food/feed vs mycotoxin, which is based on current toxicological and occurrence data.
Our research and some tendencies that we have observed in research papers are that trends in mycotoxigenic fungi and mycotoxins are changing.
⇰ As an example, we are starting to have problems with aflatoxins in areas and in crops where they weren't a problem before.

Will legislation be able to cope with these changes in time? Will legislation be able to cope with the potential shifts in the mycotoxins produced?
I think this is a very good reflection everyone in this area needs to make, as it might tell what mycotoxins we may have to analyse us in the future.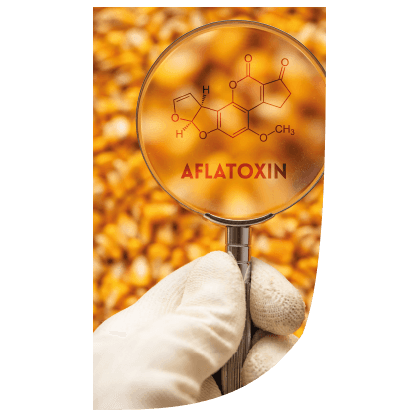 WHAT FINAL THOUGHTS OR ADVICE WOULD YOU LIKE OUR READERS TO TAKE HOME WITH REGARD TO THE CONTROL OF MYCOTOXINS IN FEED MATERIALS?
I feel the pressure of the final question now! I think the best advice I can give everyone reading is to keep their minds open.
The way we grow crops and how we produce food and feed is going to be impacted very severely in the upcoming years because due to climate change.
In fact, we are already noticing these changes in some areas and regions of the world. Thus, we need to be prepared for unprecedented mycotoxigenic challenges in areas where there were no problems before.
Do not think "this is none of my business", "we never had this problem before", because it might be close to calling to your own door and you need to be ready, so, say "hello!"

And, prevention is the best strategy!