There are many methods for detecting mycotoxins. Among them, the LC-MS/MS based method preferred due to its high sensitivity for detecting and quantifying mycotoxins in food and feed.
Hunor Farkaš, Jog Raj, and Marko Vasiljević
PATENT CO., Mišićevo, Serbia
What are mycotoxins and why should we control them?
Animal feed can be contaminated with microorganisms, mycotoxins, animal by-products, organic pollutants and toxic metals. This contamination has negative effects, both on animal and human health. Among these contaminants, mycotoxins are emerging as a major contaminant of feed and food.
Mycotoxins are produced as secondary metabolites by various fungi. The major fungus producing mycotoxins are:
⇰ Aspergillus
⇰ Fusarium
⇰ Penicillium
Mycotoxins cause mycotoxicosis and cause significant economic losses in the livestock industry due to reduced productivity, increased disease incidence and decreased reproductive performance. The mycotoxins that pose a higher threat due to their toxicity and occurrence are:
⇰ Aflatoxin B1 (AFB1)
⇰ Deoxynivalenol (DON)
⇰ Ochratoxin A (OTA)
⇰ Zearalenone (ZEA)
⇰ Fumonisins (FB1 and FB2)
⇰ T-2 toxins
How can we detect

mycotoxins

?
There are many methods available for the detection of mycotoxins. Conventional methods for mycotoxins analysis include:
⇰ ELISA
⇰ Thin-layer chromatography (TLC)
⇰ High-performance liquid chromatography (HPLC)
⇰ Gas chromatography (GC)
Most of these methods employ solid phase column clean-up of extracts and immunoaffinity techniques to remove interferences and improve the measurement of mycotoxins.
⇰ ELISA is a method of choice when rapid analysis is required but requires confirmatory analysis by LC-MS/MS.
⇰ LC-MS/MS is the most sensitive and preferred method of analysis for detecting and quantifying mycotoxins in food and feed samples.
A QUICK PEAK INTO THE LC-MS/MS BASED MULTI-MYCOTOXINS METHOD
Since it is necessary to test animal feeds for mycotoxin contamination, PATENT CO has developed and perfected a fast and simple LC-MS/MS based method for the determination and quantification of all mycotoxins (Aflatoxins B1, B2, G1, and G2; Deoxynivalenol, Zearalenone, Fumonisin B1 and B2, T-2, HT-2, and Ochratoxin A) regulated in feed (EU Directive 2002/32/ EC, 2006/576/EC and 2013/165/EU).
The method is based on "dilute and shoot" principle, which involves a two-step extraction phase and the centrifugation of the extracts.
To compensate the matrix effects* in electrospray ionization, the extracts are mixed with [13C] labelled internal standards for each group of mycotoxins (13C AB1, 13C DON, 13C ZON, 13C OTA, 13C FB1 and 13C T-2) before injection onto LC-MS/MS.
*Effect on an analytical method caused by all other components of the sample except the specific compound to be quantified.
HOW DOES THE LC-MS/MS BASED METHOD WORK?
The LC-MS/MS method combines the separating power of liquid chromatography (LC) with the highly sensitive and selective analysis capability of mass spectrometry (MS). This method involves the following steps in order to quantify the mycotoxins present in the sample.
The first step of the technique consists of the extraction of the mycotoxins that are present in the sample (Figure 1).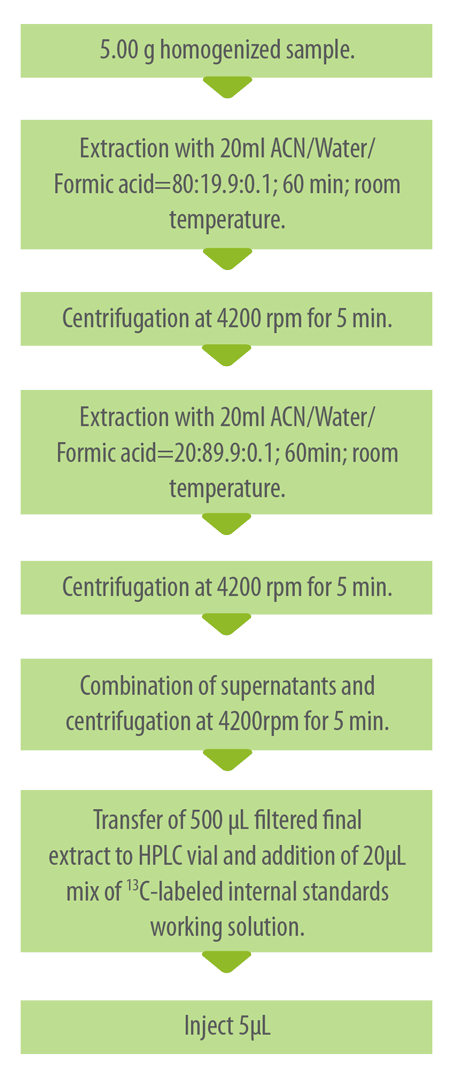 Figure 1. HPLC extraction procedure.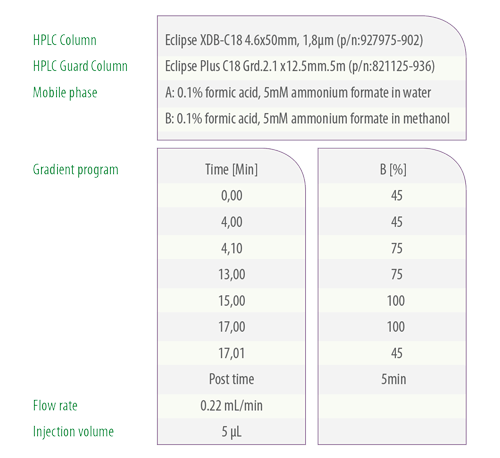 Table 1. Parameters for the HPLC: Composition, Gradient Program, Flow rate and Injection volume.
The extract is injected into the LC column that contains a stationary phase, passing through a mobile phase at high pressure (See parameters on Table 1).
The chemical interactions that take place between the components in the sample and the stationary and mobile phases determine their different migration rates, allowing for their separation.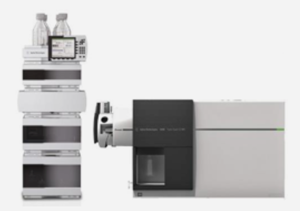 3. STABLE ISOTOPE DILUTION ASSAY (SIDA)
To compensate the matrix effects in electrospray ionization, the extracts are mixed with [13C] labeled internal standards for each group of mycotoxins (Table 2).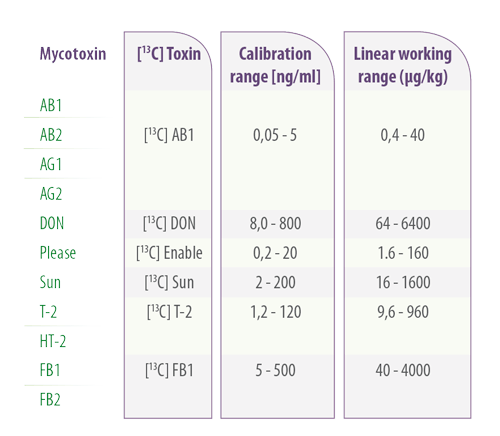 Table 2. Labeled internal standards for each group of mycotoxins.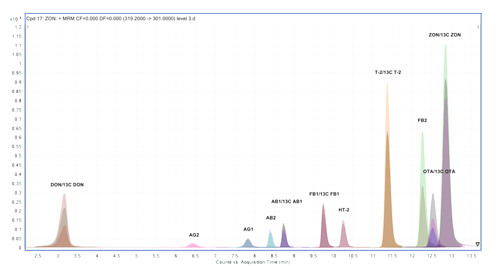 Figure 2. Stable Isotope Dilution Assay (SIDA): Chromatogram
The sample is nebulized and ionized in order to obtain charged particles that migrate under high vacuum through a series of mass analysers by applying magnetic fields.
Results are expressed as μg/kg or ppb relative to a feed with a moisture content of 12 %
WHICH INGREDIENTS CAN BE ANALYSED AND HOW RELIABLE ARE THE RESULTS?
The LC-MS/MS based method has been successfully validated for:
Corn
Compound feed
Wheat
Barley
Soya meal
Wheat bran
Sunflower meal
TMR (Total Mixed Ration)
In order to validate this method, performance parameters were obtained by in-house validation and the blank samples were spiked with a mixture of 11 mycotoxin standards on two levels (LOQ and 10xLOQ) in 12 replicates.
The RSDr (Relative Standard Deviation of Repeatability) of the method were between 2,5% and 13,4% and the apparent recoveries were between 62% and 115% for all analytes.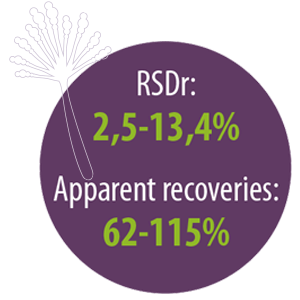 It is concluded that the "dilute and shoot" method with addition of [13C] labelled internal standards is capable for determining all EU regulated mycotoxins in animal feed and compound feed.